Anthony "AC" Cole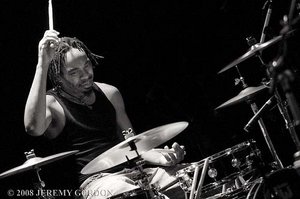 If you're a live music lover in Central Fla, from Tampa to Daytona and Orlando in between, you've likely heard of Anthony "AC" Cole. He's known to a lot of us as the drummer for the Legendary JC's out of Orlando.
For many of us who have met him, he's a perfect fit for Mofro--he's easy to talk to, down to earth, loves to laugh and smile, and makes you feel like you're important as a fan.
The JC's are a kick-ass R&B/Soul band that plays regularly at Skipper's in Tampa, and a number of venues in Orlando. If I got my timeline right, he picked up the nickname "AC" during his tenure with the JC's. As you'll see from clicking on the links below, he's referred to as Anthony in all of them.
I'm not sure how long he was with the JC's before joining up with MOFRO; there are some here on the board that can fill in that gap. Check out the JC's MySpace site. BTW, the trombone player for the JC's, Clay Watson, is the trombone player on "Orange Blossoms."
AC has been performing on stage since he was 3 years old. He is not only an accomplished drummer, but he also is an accomplished sax player and piano player, as well as a gifted singer. He's serious about his music.
As mentioned on other posts, his mother is a renowned R&B singer in her own right, Linda Cole. Her father was Nat King Cole's brother. So there's obviously music in the bloodlines. And from the reading up I've done on the history of Nat's family from when he was young to when he had young'ns, once you get to the point where you can crawl and sit-up, they put an instrument in your hands. (Wish I'd have had a family that did that!) Note: the Linda Cole singing back-up on Orange Blossoms is AC's mother.
Most of the info on the web relates to AC's work as a jazz drummer, or an indie/new wave
drummer. He's got serious chops ya'll.
I've culled through the web and below I've put links to sites with bits of info on AC, most of them say Anthony. On some of these I used the Google "cache" link so his name will be highlighted and you don't have to search all over hell in the article for it.
The JC's were not the only thing AC had going on, as most musicians got side gigs on their side gigs. Somewhere in that mix for AC is "The Rules" an indie/rock band in Orlando that AC has played for. See the MySpace page for "The Rules" and be sure and check out the pics.
He's also spent a few years as part of the Sam Rivers Trio. Quoting from his website: "Sam Rivers is the jazz world's high octane octogenarian. The energetic 83-year-old multi-instrumentalist may have left New York for Florida, but he's far from settled and nowhere near retirement. His visionary conception of complex composition and spontaneous creation, unmistakably manifest in the imaginative music of his trio and orchestra, remains revolutionary and yet, unfortunately, largely underestimated by the musical establishment."
That's serious company to be in. Here is further info on the legendary Sam Waters and here's Sam's website (click over to the Rivbea Orchestra from the home page for items of interest about Anthony.)
AC has also been in other Orlando area bands including Kow, the Live Act of the Year award winner at the 1998 Orlando Music Awards. This link has a photo of AC as the frontman for Kow. Ladies, brace yourselves...the pic shows a shirtless AC with some washboard abs like I've only dreamed of having.
Next is an example of how someone in Orlando that's never heard of the Legendary JC's could easily have heard of AC. He's known in some circles as a jazz drummer, in others as a funk bass player, others as an acid jazz sax player, others as an R&B drummer/piano player, and on and on. This is a thread that's kind of funny cause these guys are asking each other about where Anthony's at. It's from Jan '08. I posted in Aug that he's with Mofro now.
Next this link from the Jazz Police about Sam Rivers has a couple of mentions about AC--again these show his diversity.
Free Jazz artist Brian Groder released his "Torque" CD in Dec, 2006 featuring AC on the drums. You can listen to cuts of it, or buy the CD or MP3. Great jazz especially if you like the free jazz sub-genre, and again show's AC's diversity cause this stuff is obviously a whole different ballgame than Mofro.
And lastly, this link has a quick review from 2001 about Anthony's work with Sam Rivers.